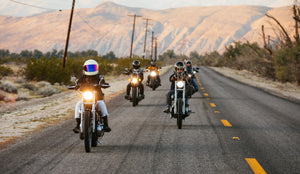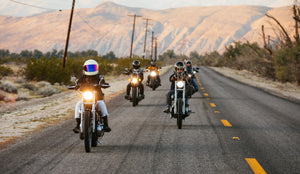 Tickets Coming in November
We have rented out the entire Palm Canyon Hotel + RV Resort to host an incredible weekend of riding and enjoying this unique area. Come ride some of the best roads in Southern California and stay in unique accommodations such as vintage trailers, airstreams, giant RV x Trailer pull throughs, glamping tents, and tent sites, as well as Wild West themed hotel rooms!
YES!!!!!!!!!!! Only in the large pull through sites. Once they sell out, it's sold out so snag one quick as we do not have many for sale. Tons of OHV nearby and adventure trails so bring those dual sports or trailer in some dirt toys.
Generator operating hours (if not hooking into the power system) are 8AM to crank up and 10PM to shut down.
No husbands, boyfriends, family, friends, or delivery services are allowed on property to set up your rig whatsoever for you. They will be turned away / and you will not be refunded.
1. No outside alcohol allowed into the restaurant or saloon. You will be fined by the hotel automatically $2500 if caught sneaking in alcohol into the main building as it violates ABC laws and has potential to shut down the entire event on the spot. Security will snap a pic of your ID and we will turn over your info, including credit card # etc., for this automatic fine the hotel will process. So please, enjoy those margs, beers, etc. in your hotel room, in the campsites, etc. just not in the main building :)

2. Sound travels within the resort and into the town easily in the desert. Quiet time is 10PM sharp each night, like low talking style quiet in all rooms and throughout entire campsite. Anyone revving engines (so lame people actually do that @ events that its painful I have to type that out as an issue), playing amplified music, being belligerent or generally loud & obnoxious to their fellow riders / neighbors or to our staff, will be recorded and asked to leave & not to return to any future events. Further more, for those who fail to STFU after security asks the first time will be removed from property by local law enforcement with no 2nd chance. Bye FeLiciA!

3. Swim areas close each night (times the pool is open & closed is clearly posted on the gate) & swimsuits (yes...tops and bottoms) are required at all times. Please stay out of pool and hot tub when it says its closed...not hard babes!

Our apologies to the 98% of you that totally rule and had to read the above. If it was annoying to read, imagine how annoying it was to deal with during and after the event weekend ;)
Ahh yes. You probably noticed the pricing went up for 2023. We want to be 100% transparent on why. (1) Seasonal Rates: This time of year is the most sought after time to visit Borrego Springs which means all hotels have much higher seasonal rates. (2) Sustainability: Hotel room costs and needs to safely sustain the event weekend have gone up as well. Don't forget this is an entire resort with tons of amenities, not a pile of dirt in the middle of the desert (which is also fun / just not this kind of experience). Feel free to fill your room to capacity limit noted to lighten the load or simply moto camp with us!
No problem, simply arrive together as the single shared moto camping spots will be assigned upon arrival and filled as riders roll in. No spot saving allowed.
This weekend is about getting out and riding the many routes around the area with no stop lights to slow you down for hundreds of miles during the day and enjoying some quality time together when the sun sets on those majestic mountains in Borrego Springs, CA. In the spring, the desert is ALIVE with so much greenery and the weather this time of year is usually a perfect spring break vibe of 78 degrees. If we are lucky this winter and it rains quite a bit, we may ever witness a super bloom.
If you booked a room or camping spot, you are IN! Each accommodation will have wristbands and bike bands so we know who is staying at the resorts / are allowed to be on the property + use pool. These bands are based on accommodation & capacity, for example a room that has a 2-person max occupancy gets 2 wrist & 2 bike bands, a camping spot that allows 6 people gets six bands and so on. Each accommodation above has its room max clearly listed. These bands will be collected by the person who is on the reservation upon check in to give to anyone sharing their accommodation with them. If you are staying with someone who has an accommodation, arrive with them OR after them, NOT before as you will be turned away until your accommodation holder is there.

We are offering day passes for those staying off site but want to come in and check out the event while it's happening. These are for motorcyclists only. No overnight parking or overnight stays allowed for those holding a day pass.
We are offering a limited # of day passes for those staying off site but want to come in and check out the event while its happening. These are for motorcyclists only. No over night parking or over night stays allowed for those holding a day pass. Only those with wristbands and bike bands will be allowed to be on property to ensure our guests have parking. If the resort catches an un-banded bike or vehicle parked on the property or in fire lanes etc., the vehicle will be towed at owners expense ($265 yikes!). If you've missed out, we will have to see you next year!
No, not under any circumstance can Babes Ride Out refund your purchase or transfer it to another event.
You do have the option to add "Purchase Protection" offered by a 3rd party when you buy your tickets.
Yes! You are able to transfer your accommodation to another rider. The price of the accommodation minus a $25 processing fee will be refunded to the original user. There is no option to edit the name on your reservation after you have purchased so please make sure it matches the ID you will have on hand at the time of the event.
**All transfers end (2) weeks prior to event, March 17th at midnight PST by rules of the hotel. Do not ask, call hotel, DM, email etc. if you missed this deadline as its 100% final under any circumstance by rules of the resort**
We want to be 100% transparent as we have new riders join us every year (which is awesome). Here is the nitty gritty: This is a true riding event. If you do not like riding motorcycles you will NOT have a good time. This isn't a shopping event, or a drink all day type of thing, there are no tour guides, no pre-arranged group rides, no one to help with special needs etc. If you can navigate a google map, come prepared for the weather, have your bike dialed, able to problem solve, love to rough it a bit or not if you booked a room or trailer, this event is right up your alley. If you are the type that needs to "speak to the manager" then it's suggested to find another event that is better suited to your comforts.
All street legal 2, 3, or 4-wheel freedom machines are welcome! If you are not riding yet or not 100% confident to ride to this event, we suggest driving & staying in the hotel. We hope the weekend will inspire you to get your license after getting to know this amazing community.
Sorry! All accommodations are FRI-SUN with no exceptions.
When you arrive, you will check in with the front office to get your spot # based on what you paid for. No pre-arranged spots or special requests can be accommodated.
If you are a rider who booked a spot for (1) , you will be placed within a campsite with other riders who booked the same. Don't worry, we never over sell so there is space for you, your bike, and your tent.
Big Horn Burgers & Shakes is on the property as well as a fully stocked saloon + a camp store for those must haves! The town has many restaurants and a few gas stations for easy fueling.
We'd love to hear more! Babes Ride Out is a private event and we do the best we can not to distract our guests so they can have the best time possible. If you want to shoot the event in any way for a media source, a brand, or other non-personal use, please email press@babesrideout.com for permission as no commercial photography or video of any kind is allowed unless approved by BRO. Images for your own use are 100% awesome and appreciated! No need to ask if it's for yourself and/or personal social media, we only ask that you be respectful to the other attendees :)
Click and post away in our Babes Ride Out Borrego Facebook event page coming soon. This is a great way to meet up with ladies to ride to the space with.
No, this is a ladies only weekend.
Nope, the event is not kid / pet friendly :(
Must be 21+ to attend and have valid ID to drink.
Weapons, signage, flags, banners, fireworks, pets, kids, a bad attitude, hand-outs for a brand or marketing materials of any kind.
Nope! Your room reservation must match your ID and the person who made the reservation is the only one that can collect the room key + wristbands & parking bands at the front desk. We cannot add more names to the reservation so you are in charge sister! Please arrive together if you are sharing your room with other ladies. There are also places in town you can group up before entering property.
100% yes! "Ladies Only" is the best we have found to make it clear who this event is dedicated to. We understand that gender is fluid and trust that the moto community can make the distinction as they have over our past 9 years hosting the events.
All Babes Ride Out events have a zero-tolerance policy for any hate speech or violence whatsoever. We have never had a problem with this at any of our events but we feel that it is important to reiterate that racism, homophobia, bigotry, aggressive behavior towards anyone and/or anything that resembles it is not welcome ever at any of our events.
Borrego Springs, CA
Your Oasis Awaits
From wide open desert to curvy mountain roads, this quiet desert town east of San Diego has it all.